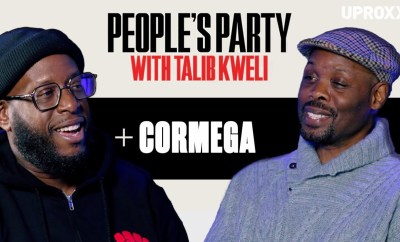 Videos
By 
 | 
In this episode of "People's Party With Talib Kweli," Kweli sits down with rapper and writer:
CORMEGA
Here's what we got into:
• His early life, being born in Bed–Stuy, Brooklyn and eventually moving to Queens.
• How the tragedy of his mother's murder when he was four impacted him.
• The strong women in his life and how they affected his growth as an artist.
• Mega's take on the deep cultural impact of Queensbridge on the world.
• The pride Mega holds in his long history as an independent artist.
• How he feels being viewed as one of the most slept on artists in the game.
• Intentionally being overlooked by the gatekeepers of the industry.
• Being locked up during the release of his childhood friend Nas' iconic 'Illmatic.'
• The deal he had for an album produced by Marley Marl before being arrested.
• How he felt when he found out he was going to be excluded from The Firm.
• The love Mega and Nas still had for each other throughout years of negativity.
• The impact and storied legacy of Violator Records Exec Chris Lighty.
• The chance to be affiliated with Def Jam being a dream come true.
• Queens rappers being a reflection of the greatness of their community.
• The immortal legacy of street legend Supreme Magnetic.
• Discussing notable cuts from Mega's 2014 album 'Mega Philosophy.'
• The strategic move of featuring members from The Firm on 'Mega Philosophy.'
• Expecting to be blacklisted from the industry with the song 'The Industry.'
• When he started challenging himself to be more responsible as an artist.
• Discussing tracks from Mega's latest album 'The Realness II.'
• Taking every opportunity to be a supporter of his peers and their endeavors.
• The deep underappreciated influence of the Five Percent Nation on hip hop.
• Releasing a physical copy of his 'Black Book' book of inspirational quotes.
• The debate over the origins of hip hop and tracing it back to the early 1900s.
• Why Mega considers Run DMC to be the greatest rap group ever.
• How hip hop became one of the most powerful unifiers in the world.