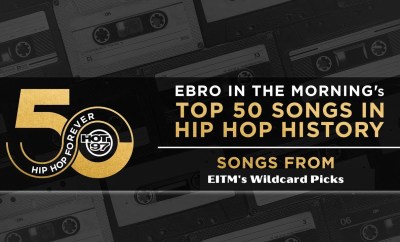 Videos
By 
 | 
Ebro in the Morning is looking to get to the bottom of that debate with a special programming event EVERY Thursday at 8AM EST from now until August 10!
To celebrate 50 years of Hip Hop; Ebro, Laura Stylez, Rosenberg, Shani Kulture & DJ Kast One will be nominating two songs each that day.
Each week, there will be a new theme to the debate (ex: 1996-2000, West Coast 90's, Remixes)
YOU have full control from there! Following the show HOT 97 listeners will have until Tuesday, 11:59 PM EST to debate and put in their votes. The final results will be announced every Wednesday before White Ish Wednesdays, and officially added to the Top 50 list.
Just before August 11, 2023 we will add a final poll which will determine the ranking for the Top 50 Songs of All time!
Last Weeks Winners:
Wu-Tang Clan – C.R.E.A.M.
Raekwon – Ice Cream