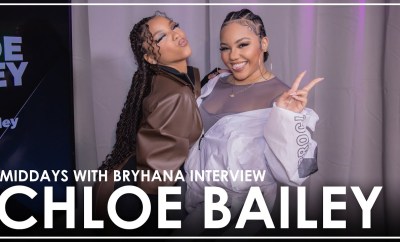 Videos
By 
 | 
Chloe Bailey stops by Power 106 and talks with Bryhana about her new music and the importance of mental health. "There are so many of us who wear our masks so well, and you would never know what anyone in this room are going through." Chloe talks about finding a creative outlet that will help you coup with the hard times in life, for her it was music.
She mentions during the interview that music saved her. She puts her heart in her debut album "In Pieces" and says, she's nervous because the people she wrote about will hear this album too. "If they affected me in some way, positively or negatively, they'll be hearing this music and i'm sure specific ones know who I'm talking about."
Her album is set to release on March 31st and one of the songs she's most excited to perform in the future is "How Does It Feel" ft. Chris Brown. Chloe says the vibe was perfect on set, "He is such an incredible performer and I can't wait to perform this record. That would be really cool." Not only is Chris Brown one of her favorite collaborations, but also the queen Missy Elliot.
Chloe Bailey talks about how she got in contact with Missy Elliot, her favorite songs in her album, and how she got her role in Dan Glover's show 'Swarm'