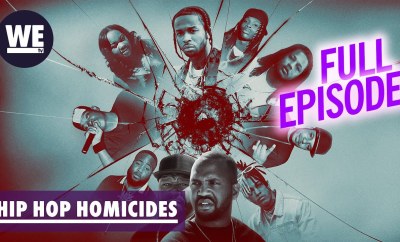 On November 3rd, my actual birthday, I searched through the channels after my dinner to watch the first episode of "Hip Hop Homicides". This episode would be more special to me as it was for "Pop Smoke". Besides meeting him briefly and being a fan of his music. I had heard the story many times of meeting 50 and writing down every word that he shared. The part that resonated  was how impressed 50 was with Pop and we often joked that they had to be secretly related. While we continue to experience loss of rap heroes, I wanted to share what I have learned in the first five episodes in hopes that history doesn't continue to repeat itself.
Lesson Number One: Never Share Your Location Until After You Are Gone
Pop Smoke made the mistake of not only sharing an address to where he was staying via a purchase he made within his stories, his best friend also posted a picture of them together in front of the same addressed AirBNB. While it appears that Pop met his tragic end as a result of a robbery gone wrong, what is clear is the robbers looked up and had time to scope out the residence. PNB Rock lost his life inside of Roscoe's Waffle House in LA. Both artists lost their lives at the hands of minors that were with adults. Social media quickly accused PNB Rock's girlfriend and Mike Dee for the resulting losses. They claimed had they not posted where they were both artists would still be alive today. Both Mike Dee and Stephanie have retorted to proclaiming their innocence and continue to suffer over the artists we loss.
Lesson Number Two: No One Fights Fair
King Von lost his life outside of a club that he was at with his sister, his manager, his security and a slew of friends simply because he got out the car and started a fight. Whatever the reason, his security was unsuccessful with subduing him or the person that he was fighting. Because he only had one security guard with him, there was no one to see the gunman that took aim and killed King Von with a single shot.
Lesson Number Three: Watch The Company You Keep
Magnolia Shorty would be alive had she stopped dating her boyfriend. She was not the intended target but an unfortunate casualty. She was on her way but made the unwise decision to be with someone known for a criminal. It wasn't until after the crime was committed the men involved flagged that they had killed her. While they seemed not to pleased, it didn't stop them from shooting up the vehicle.
Lesson Number Four: Hire Armed Security 
With XXXtentacion's untimely death, he removed a large sum of money from the bank to make a purchase. While he may have predicted his own murder, if he had armed security he might still be alive. He also should not removed so much money without an escort. This made him an easy target. Despite being jumped by a bunch of guys in LA, he still wasn't motivated to increase his security detail.
Lesson Number Five: You Can't Live A Double Life
Soulja Slim was best known for his contribution to the hit "Slow Motion" with his label mate Juvenile. Soulja Slim was shot and killed in front of his mother's house. Yet despite finding the weapon on the person suspected of ending his life, the New Orleans District Attorney's office had his murder listed as a cold case. Slim's killer was also shot and killed in 2011. Appearing to speak about Soulja Slim was Master P, who discussed how Slim was taking drugs to self-medicate. Others spoke about how he lived the lyrics he spit. Deemed the "Tupac Of New Orleans", never lived long enough to see his affect on music. Sometimes your past catches up with you>
If you haven't watched the Hip Hop Homicides, make sure you do. While they music will keep their legacies alive, I hope that these episodes will shed light on what night to do avoid being an episode themselves.
Check out the first episode below: