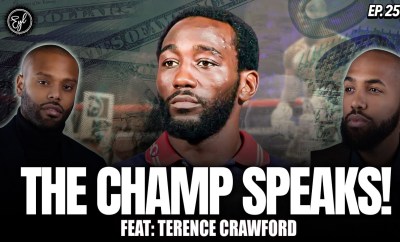 Videos
By 
 | 
In our latest episode, we sit down with the legendary Terrence Crawford. Dive deep as he discusses triumphing over Errol Spence, navigating the intricate business of boxing, and addresses the buzzing rumors of a showdown with Tank Davis.
Crawford sheds light on the critical role of marketing in boxing, his venture into opening a gym in Omaha, and his unique bond with Warren Buffett.
He opens up about his departure from Top Rank, the rift with Bob Arum, and the transformative experience of fatherhood. Gain insights into the world of boxing deals, the mechanics behind mega fights, Crawford's passion for real estate, and his stance on pay-per-view. As the top pound-for-pound fighter, he reveals pre-fight jitters, his ambition to take on Jermell Charlo, his first big spend, and much more.