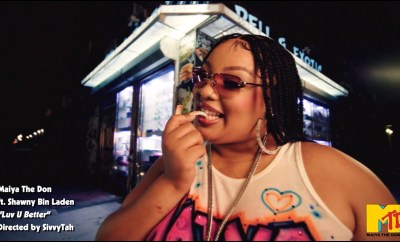 Brooklyn's up-and-coming rap sensation, Maiya The Don, has just unveiled the highly anticipated music video for her latest hit single "Luv U Better," featuring the dynamic presence of Shawny Binladen. Catch the video by clicking here and dive into a world of captivating visuals and infectious beats.
Filmed amidst the vibrant backdrop of New York earlier this month, the music video for "Luv U Better" is a visual masterpiece brought to life under the skillful direction of SivvyTah. Throughout the video, Maiya exudes her radiant charisma, spending quality time with her friends and cruising through the streets in her stylish coupe, soaking up the city's energy. Notably, Siddiq Saunderson of Hulu's acclaimed series "Wu-Tang: An American Saga" graces the video with a special cameo appearance, adding an extra layer of excitement to the visual narrative.
As the video unfolds, Shawny Binladen takes center stage, delivering his impactful verse while effortlessly blending rap, dance, and pure vibes. The synergy between Maiya and Shawny is palpable, captivating audiences with their undeniable chemistry and mutual musical prowess.
Inspired by Mary J. Blige's iconic 90s hit "I Can Love You" featuring Lil' Kim, "Luv U Better" pays homage to the era's R&B charm while adding Maiya's unique contemporary twist. The track speaks to Maiya's unapologetic approach to love, portraying her as a fiercely devoted partner and a truly genuine soul.
Watch Below: