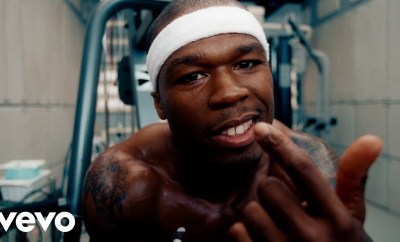 News
By 
 | 
The story of 50 Cent's survival is intertwined within the culture of gangster rap and Pop. He was shot nine times outside of his grandmother's house, immediately blacklisted by the music industry gatekeepers yet he emerged upside down on everyone's television screen quickly altering how the world announced their birthday. Before his infamous slur graced the soundwaves, 50's mixtape landed in the lap of Eminem. It was Em's love of the Southside rapper's no holds bar lyrics that motivated Dr. Dre to take notice of him. "In the Club" is officially 9x Platinum with "21 Questions" coming in at 4x Platinum. "P.I.M.P" and Many Men (Wish Death) are 3x Platinum. "Patiently Waiting" is Platinum and my personal favorite "If I Can't" and "What Up Gangsta" are Gold.
According to a story from 50 Cent during his appearance on Big Boy's Neighborhood, Dr. Dre didn't believe "21 Questions" was fit for 50's acclaimed 2003 debut album. However, thanks to 50's intuition, the song made it on the track list.  Produced by "Dirty Swift," the storytelling love ballad would prove 50's gut right and "21 Questions" became his second Billboard Hot 100 No. 1 hit as the single topped the chart for four weeks and remained on the Hot 100 for 23 weeks. His project debuted at #1 on the Billboard 200 chart by selling 872,000 copies in its first week and remained atop the Billboard 200 for 6 weeks.
Many Hip Hop historians consider Get Rich or Die Tryin' by Curtis "50 Cent" Jackson to be one of the greatest debut albums in rap history. During the same appearance on Big Boy's Neighborhood, Big Boy asked 50 what inspired him to start the track with the iconic line, "Go shorty, it's ya birthday." He then shared that it was simply the first lyrics he thought of. That simple sentiment is exactly what drives everyone to break into their birthday behavior and what a smart way to capture history. I mean it's always someone's birthday. Artists like Trey Songz have attempted to knock "In the Club" of its pedestal but to know avail.
50 Cent also received Grammy nominations for Best Rap Song, Best Male Rap Solo Performance, Best Rap Song, and Best New Artist in 2004.
50 Cent was able to expand his talent outside of the hip-hop community, later working with Vitamin Water, creating G-Unity and Le Chemin Du Moi, and becoming an overall mogul. In 2014, he added even more to his resume when he co-produced the hit Starz drama "Power" which spawned several spinoffs including "Power Book II: Ghost" and "Raising Kanan." He has also added to the hit series "BMF" and "Hip Hop Homicides".