Only 15 days until the small town of Eldena in Mecklenburg-Western Pomerania turns into a place of pilgrimage for Goa and Psytrance fans from all over the world. From August 30 to September 04, 2023, the Indian Spirit Festival will present non-stop music on a total of six stages for five days. It is one of the biggest happenings of its kind and offers the best line up of these genres in Europe. A total of 250 internationally renowned artists from Goa, PsyTrance and Techno will play on three main stages and three smaller stages. Over 20,000 visitors will go on an unforgettable journey into the world of "love, dance and trance". The construction for the biggest psychedelic festival in Germany, Austria and Switzerland has already been going on for two weeks. Now the last details are revealed.
The "Sun Stage" will be the largest covered stage in all of Germany. For this, the fabrics will be painted and sewn by one of the best decoration teams in the world. This area will become a visual synthesis of the arts, additionally equipped with the latest video mapping technology and state-of-the-art laser systems, which will allow visitors to visually immerse themselves in psychedelic spheres in addition to the music. The terrific line up of this stage presents stars like Ace Ventura, Astrix, Liquid Soul, Neelix, Infected Mushroom, Vini Vici and many more will perform.
The "Moon Stage" offers the guests music at every minute of the festival. Here it starts on Thursday at 6 pm and ends Monday at 1 pm – 24 hours non-stop with well-known artists like Avalon, Captain Hook, GMS, Atmos or Sonic Species. Of course, the most modern video mapping offers visual overkill at any time of day.
The third main stage is the "Mushroom Stage" and offers a variety of acts, such as Boom Shankar, Kindzadza, Hujaboy, Fabio Fusco or Bluespace, which will make the hearts of psytrance fans beat faster.
The three smaller stages are the "Chill Out" area, where visitors can relax to the sounds of Ace Ventura & Gaudi in Dub, Alpha in Dub, Gaudi or Lavinia. The Techno Stage presents a diverse line-up of highly talented artists from the techno scene. And the Fire Tent offers a special atmosphere thanks to a mixture of electronic sounds and pulsating beats that will immerse visitors in another dimension.
The 10-hectare festival site offers visitors not only first-class music. A large market mile in the style of the hippie market on Ibiza with over 100 booths invites you to stroll, shopp and enjoy. In addition, workshops, yoga, meditation and healings will be offered in various tipis. At Yoga & Meditation Magic Sky, from Friday to Sunday, you can join classes such as Yoga & Body Activation, Chakras Yoga & Sound Mediation, Kundalini Yoga, Hatha Yoga, Flow Yoga, Vinyasa Flow Yoga, Power Vinyasa Yoga, Partner Yoga and many more. The Workshop Tipi will offer classes such as Infinate Creativity, Macramé with Mellikrame, Silten Disco UV Paint Party or Dreamcatcher. The Healing Tipi will feature classic massages, lectures such as Energizing Water, Water Memory and Healing Effects, a harmonious healing sound bath, and Reiki and Swedish massages combined with other healing modalities. The Double Tipi features an art exhibition by Caos Concept, Public Beta, Raven PicUps, Tiny Space Art and is a place for various interviews. Last but not least the Fire Place in front of the Fire Tent, which invites jugglers and fire artists to play freely at any time, but also offers Hula Hoop Dance & Tricks or Flow Art Workshops.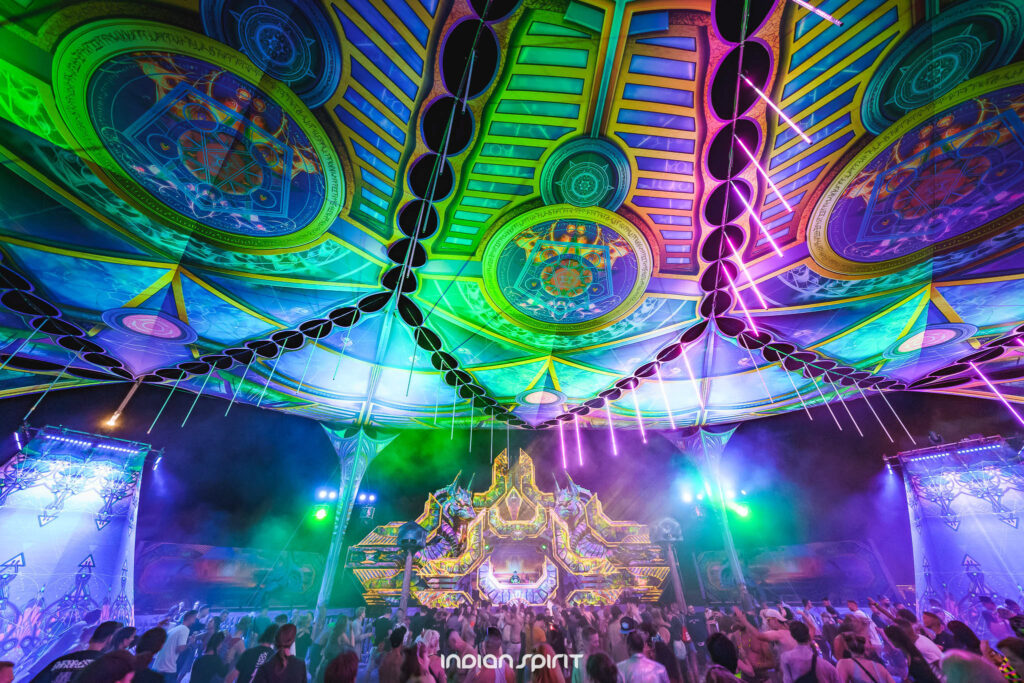 The Indian Spirit Festival has been a special kind of experience since 1999 and is known for its lively and warm community, which provides an unforgettable journey into the world of electronic music. The Indian Summer transforms the leaves of the trees into a colorful sea of colors, providing the perfect backdrop for the biggest psychedelic festival in Germany, Austria and Switzerland. Countless artists, jugglers and fire artists on the area deepen the flair of a never-ending summer and enchant the guests. Every year thousands of psytrance fans from all over the world make a journey to Eldena in Mecklenburg-Western Pomerania to celebrate the end of the European festival season. The Indian Spirit Festival will take place from August 30 to September 04, 2023 in Eldena, Mecklenburg-Western Pomerania. Full Weekend tickets are available in the pre-sale phase 2 for 109.99 euros plus fees at https://www.indian-spirit.de/.