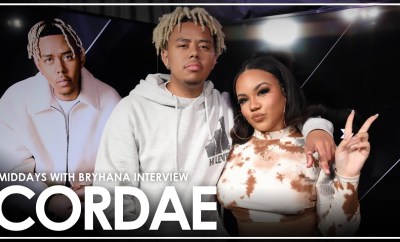 Videos
By 
 | 
Cordae is back in the Power106 building to connect with our Midday host Bryhana after a special Big Bear Snow Concert appearance a few years back.
Catching up on what the Maryland native has been up to since last chatting, the esteemed rapper recently wrapped up a successful Ted Talk where he discussed a new "Hi-Level Mindset" where he works to stay uplifted and positive while being in the industry. Speaking on how he continues to stay grounded in the game, Cordae reveals that he stays off of social media and even speaks on the many comparisons he gets in the same respects of Kanye West, Kendrick Lamar, J. Cole, and Chance The Rapper, and even discusses how artists are all influenced by one another, and that comparisons are natural.
With his new J. Cole-produced single "Two Tens," which features his close friend Anderson . Paak, Cordae is hard at work on his 'The Lost Boy' follow-up. Cordae found a mentor in Cole and the North Carolina-bred emcee is always there for him when it matters most.
Cordae goes on to speak about touring with Lil Wayne, how he's working on his own legacy, why everyone sounds like Future and Young Thug, and much more.