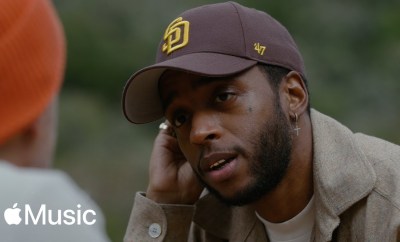 Videos
By 
 | 
6LACK has been an advocate for mental health awareness, but hasn't always felt like he was able to talk about his own mental health experience. In his third album, 'I Have a Lover', 6BLACK touches on self-care, therapy and move forward with uplifting intentions.
6BLACK meets up with Zane Lowe in the solitude of the Topanga mountainside to give a look at what his life has looked like since being isolated during the pandemic.
6BLACK discusses the impact of being in a dynamic with a supportive partner, and how having a daughter has changed his life and perspective. These life experiences have informed his music evolution since FREE 6LACK, culminating in 'Since I Have a Lover.'
This new album reflects those changes, and has features from Don Toliver, Wale and more.
Listen to 6LACK on Apple Music: http://apple.co/6LACKZLYT
00:00 – 6LACK on Growth
11:59 – New Album 'Since I Have A Lover'
23:20 – Fatherhood
29:43 – Healthy Relationships
41:29 – "Talk"
51:06 – Finding Balance