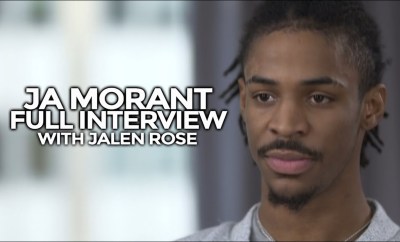 Sports
By 
 | 
Memphis Grizzlies' Ja Morant sits down with ESPN's Jalen Rose to discuss:
0:00 How the last few weeks have been for Ja Morant
1:10 How stressful is it being Ja Morant?
1:50 When Ja decided to check into counseling
2:30 Ja Morant on the meeting with Adam Silver
3:11 What Ja Morant was feeling when he went live on Instagram
4:10 Whose gun was Ja Morant holding?
4:50 Morant addresses other controversies
8:52 Does Ja Morant take pride in being a role model?
9:33 Ja Morant on being away from basketball
10:33 Ja Morant's advice for managing stress
11:55 Ja Morant on his inner circle
14:00 The effect on Tee & Jamie Morant
14:43 What it was like not knowing the consequences from the league
16:05 What can we expect from the Grizzlies moving forward?
17:38 When Ja realized he needed counseling
18:09 Shedding some light on the Pacers controversy
18:49 What changes when you're drafted into the NBA?